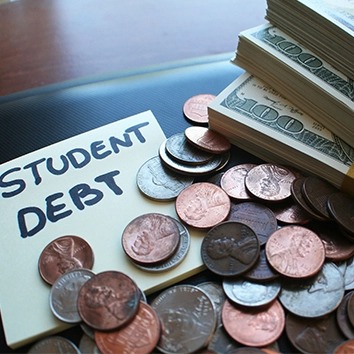 Improve Your Reality of Living with Student Debt
07/02/2019
As a college student, you could say I have a lot of worries. Like my job, my studies, my family, and my social life. Finding a way to balance it all can be challenging, especially when I'm only halfway through college and my student debt already exceeds $50,000. You could say I think about this burden from time to time, and by time to time I mean a LOT of the time.
Sadly, this is a reality for many Americans. According to Lending Tree, on average, Americans owe over $1.56 trillion in student loan debt, spread out among approximately 45 million borrowers. This is $521 billion more than the U.S.'s total credit card debt. Living with student debt can be challenging, but it's looking at the big picture that tends to worry the majority.
How will my student debt impact my real world living? What will my savings look like? Will I be able to afford a house or a family if I'm still making student loan payments 10 years from now? With some insight on the topic, we hope to help prepare you for what is to come and how you can get ahead of the game NOW.
Meet Molly: Molly graduated in 2018 with a Bachelor's degree in Psychology, accumulating $27,000 in student debt. She is currently a Registered Behavior Technician at a center for children with autism making $37,000 a year. While paying $285 a month for her student loans, and still owing around $23,000 today, Molly is also in the process of attaining her master's degree which requires her to pay around $4,500 out of pocket every semester. One of the biggest sacrifices she's made since graduating was moving back home with her parents. "I would suggest, if it is an option, to live at home for the first couple months to a year, especially if you are still figuring out your future job and location." She claims that it was important for her current situation to live at home and save up money. "I graduated a year ago and couldn't imagine myself being able to pay off my master's degree while paying for a living space." Her tip: Pay off large portions of your student loans if you are in a comfortable living situation. "As much as it may be tough to hand over a chunk of money, it'll be worth it in the end."
Meet Rachel: Rachel graduated in 2018 with a Bachelor's degree in Hospitality Management, accumulating $80,000 in student debt. She is the Conference Services Coordinator with a large hotel group. With a salary of $49,000 a year, she pays 3 different monthly loans totaling $800. Rachel was lucky enough to have her parents pay the interest on her loans while she was in school, but still owes about $73,000 today. In order to save more, Rachel also made the same choice as Molly which was to move back home. Even though it isn't as fun, the alternative of living elsewhere just isn't a possibility. She claims her friends pay close to $1,600 a month before food, utilities, and other day to day expenses. "It seems so insane to me that I actually get nervous about how I am ever going to leave home. Ideally I wanted to be out after 2 years max, but at this time I'm not super confident in that plan anymore." Not only does she live at home, but Rachel also has to share a car with her other 2 siblings who have also graduated college. "It can definitely be tricky to work out the scheduling, but I don't see how I could afford my own right now." Her tip: Be extremely mindful of how and where you can save. "Even saving on food/laundry if your parents allow you to get away with not paying for groceries or a water bill like mine do! If someone is not saving money at this point, then you are really not paving a good path for the future."
The Bottom Line: SAVE. Whatever chance you get. The sacrifices you make now might not be ideal, but they will benefit you in the long run. Loans truly do effect every financial decision a person makes because of how astronomically high the average college graduate's debt is.
These stories are an example of the reality of living with student debt. The more you know, the more you can do to improve your reality.
Stay up to date and join our email list.
The Atlantic blog strives to deliver informative, relevant, and sometimes fun financial information. If you enjoyed this article, please forward it to a friend.
View All Posts