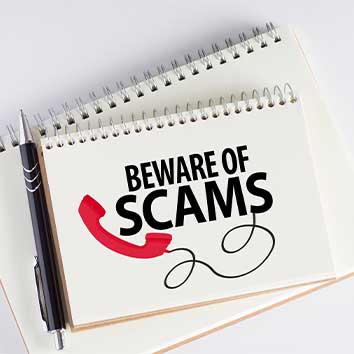 How To Protect Yourself from the Top 6 Financial Scams
11/17/2022
Financial Scams are on the rise, and it's more important than ever to stop and think before acting. If something seems fishy, listen to your gut because it most likely is.
These are the most common scams we hear about, and tips on how you can protect yourself.
Online Dating Scams: Cultivate a relationship to earn trust, then ask for funds/gift cards for emergencies, groceries, etc.
How to protect yourself:

You should only send money to or purchase gift cards for someone you have met in person.?
Do not share too much personal information; never share your Digital Banking credentials or debit/credit card details.
Government Imposter Scams: Claiming they are from a government agency (i.e. IRS, Social Security) saying you need to settle a debt immediately
How to protect yourself:

Be wary of strange requests.
Government entities will never contact you by email or phone to pay back debt via a wire transfer or gift card.
Bogus Tech Support Scams: Email, phone call, or pop-up window that says your computer/phone has malware and you need to contact tech support, where they then request remote access to your computer
How to protect yourself:

If you think your computer is compromised, take it to a local, reputable computer company that can make sure any malware is removed.
If you receive an unexpected phone call from someone claiming they are with Apple or Microsoft, hang up. Look up their phone number and call them directly. Software companies typically do not initiate a support call out of the blue.
Do not let anyone you do not know/trust have remote access to your computer.
Fraudulent Email Solicitation Scams: Unexpected emails about purchasing services, about an account going inactive where you end up providing account information or sending money
How to protect yourself:

Be very cautious when clicking links in emails, especially from someone you do not know or trust.
Reading your email on a computer allows you to hover over a link with your mouse to see if the URL matches where you would expect it to go.
Never give out any personal information via email.
Job Scams: You're promised a job, but they ask for your personal information to take your money.
How to protect yourself:

Research the name of the company and the person hiring you, plus the word "scam," "review," or "complaint" to see if they've scammed other people.
Don't pay anyone to "get a job." Legitimate employers won't ever ask you to pay them.
Favor for a Friend Gift Card Scam: Unexpected email from a 'friend" asking for a favor where you purchase a gift card to get them out of a bind, and you provide the gift card numbers over the phone.
How to protect yourself:

Call or text the friend who requested the gift card to confirm it's valid.
We know there's a lot to be cautious of, but you can never be too safe. If you ever question the legitimacy of something, call Atlantic at 800-834-0432. We are here to help.
Interested in learning more about how to protect yourself from cyber criminals? Look at these additional blogs and subscribe to our blog to stay up to date with the latest trends:
View All Posts