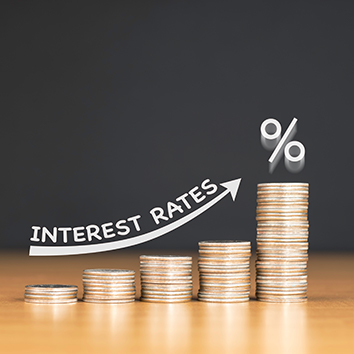 How Does the Rise in Rates Affect You?
12/21/2015
If you are a borrower, then now is the time to review your loans. Do you have a fixed rate or a variable rate? If you have a variable rate, then it is wise to be mindful of future rate hikes and be prepared with options to move into a fixed rate loan.
With the Federal Reserve raising rates, a lot of credit union members are asking, "Are you changing your rates?" Keith Rioux, Chief Operating Officer says, "Atlantic's "Product & Pricing" team evaluates its' pricing on both deposits and loans on a daily basis. We take many factors into consideration and history has shown that we are very competitive in the marketplace."
Will saving rates go up immediately? Mr. Rioux says, "This recent change to the federal funds rate won't cause these historically low rates on savings products to jump that much higher overnight, but additional bumps to the rate will likely stimulate competition among banks and credit unions, and consumers will benefit from that. How much they change is very hard to say. There is certainly going to be an opportunity for consumers if your financial institution is slow to respond to the Fed's move(s)."
What if you have money in a certificate product now? What should you do? If you are invested in a certificate product, then you are locked into that interest rate until the certificate matures. If you wish to close out that certificate to take advantage of a higher rate then you will pay a penalty. The penalty typically negates any advantage to reinvesting into a higher yielding certificate. So pay attention to your maturity date and educate yourself on potential opportunities.
As you make future investment plans, keep in mind that the Atlantic 5 Year Step Up certificate offers an exception. This product allows a one-time rate increase during the life of the certificate.
What about individuals considering the purchase of big ticket items? Mr. Rioux explains that, "Borrower's obviously face the opposite problem. If rates continue to rise, consumers will pay higher rates on auto, personal, and mortgage loans. Consumers with home equity lines of credit will feel the pinch almost immediately. Again – a good opportunity to double-check your existing loans – are they fixed or variable rate products? Maybe consider refinancing your variable rate products into a low fixed rate or even borrow additional funds to tackle that project you've put off to lock in today's low fixed rates."
Is the recent rise the start of a new era? You can be sure that the Fed, and others, will be closely following the affect that the rise has on the US economy. It has been a long time since any of us have had to think about rising rates. The .25% rise is a good opportunity to review your finances and make sure you are prepared for the future.
Questions? Our financial service representatives are ready to help, 1-800-834-0432.
Stay up to date and join our email list.
The Atlantic blog strives to deliver informative, relevant, and sometimes fun financial information. If you enjoyed this article, please forward it to a friend.
View All Posts