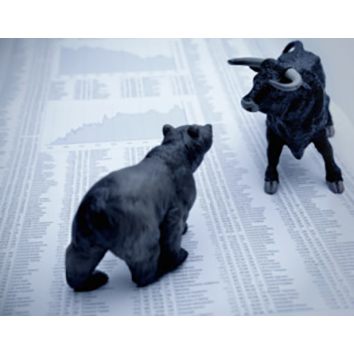 Keep Calm and Stock Market On
02/26/2016
The stock market has been challenged through the start of 2016. Some are predicting the rollercoaster to continue. Are you ready for the ride? I recently spoke with Atlantic Financial Services, who shared three truisms about how to stay calm and deal with a roiling stock market.
Don't Put Your Eggs All in One Basket
Carol's first piece of advice is to make sure that you "don't put your eggs all in one basket." Market unpredictability will happen from time to time and having a diversified portfolio may help ease your stress level. Carol explained that "because asset classes often perform differently under different market conditions, spreading your assets across a variety of investments such as stocks, bonds and cash alternatives has the potential to reduce your overall risk. Ideally, a decline in one type of asset will be balanced out by a gain in another, though diversification can't eliminate the possibility of market loss."
Focus on the Forest Not on the Trees
When the stock market is active and making headlines it is natural for many to start focusing on day to day returns. You might start looking for online stock market updates two, three or four times a day. This technique is certain to increase your anxiety. Carol points out that it is important to "focus on the forest not on the trees." She goes on to explain that you should "keep your eyes on your long term investing goals and your overall portfolio." Having clear investment goals and understanding how much investment risk you can handle is an important element to remaining tranquil during market swings.
Don't Count Your Chickens before They Hatch
If the market is picking up steam, it is just as easy to allow your emotions to swing high as well. Carol cautions, "Don't count your chickens before they hatch." Control your elation. "If the upswing lasts long enough, it's easy to believe that investing in the stock market is a sure thing. But, of course, it never is. Becoming overly optimistic about investing during the good times can be as detrimental as worrying too much during the bad times."
The three truisms might sound like clichés, but their essence is one of realism. You can stay calm during market fluctuations if you are realistic. What does a realistic investment approach look like? Carol sums it up by stating, "Have a plan, stick with it, and strike a comfortable balance between risk and return."
Securities sold, advisory services offered through CUNA Brokerage Services, Inc. (CBSI), member FINRA/SIPC, a registered broker/dealer and investment advisor. CBSI in under contract with the financial institution to make securities available to members. Not NCUA/NCUSIF/FDIC insured, May Lose Value, No Financial Institution Guarantee. Not a deposit of any financial institution. CUNA Brokerage Services, Inc., is a registered broker/dealer in all fifty states of the United States of America.
Stay up to date and join our email list.
The Atlantic blog strives to deliver informative, relevant, and sometimes fun financial information. If you enjoyed this article, please forward it to a friend.
View All Posts