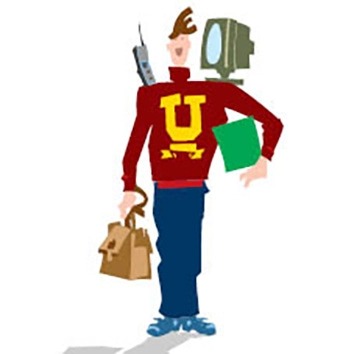 Ways to Save in College
08/23/2018
Going off to college is an exciting time! Your world is about to open wide, providing you with new opportunities to expand your mind, meet new people, and begin the groundwork for your career (or figure it out). One very important skill you'll need is learning how to save while living on your own. The easy first step is finding out what you don't need to buy.
A car. Skip it. You're going to spend most of your time on campus, so there's little reason to pay for monthly loan payments, parking fees, gas, and insurance. Use public transportation or a bike to get to places too far to walk.


A printer. Leave it behind. Check with your college to see if they have a printer allowance (usually included in the school's technology fee), giving you access to the school's printers. Also, many professors prefer that you turn in your papers electronically through the school's educational portal (e.g., Blackboard or Moodle.) A printer will take up too much space, and the cost of ink and paper can add up.


Computer software.Most schools have special arrangements with Microsoft to provide the Office Student to their students for free. For virus software, if you have cable at home, virus software is usually available to download through the cable provider.


Television. No need. You most likely will be streaming your favorite show. Make sure you are connected to Wi-Fi and monitor your data. If you need a TV, most colleges have TVs in common rooms.


Ironing board and iron. If wrinkled clothes really bother you, get a small steamer instead. An iron and ironing board will take up to much space and your likely to not even use it.


Small Expenses. Be wary of small expenses, like eating out or other small purchases. Those expenses add up over time. For instance, just buying a Starbucks latte (around $4.00) every day means you'll spend $300 on coffee in one semester!
And if you have to spend money, then make sure you are using a debit card that rewards you in cash.
The Atlantic Kasasa Cash Back, Free Checking offers 2.5% cash back* on monthly purchases up to $250. It works out to $6.25 per month. It's free checking that pays you. There is no minimum and no fees. Atlantic free Kasasa checking is easy. With the Atlantic Mobile App and Shared Branching, you can do your banking anywhere.
Don't forget to apply for as many scholarships as you can! Atlantic offers the Amable & Vivian Caron College Scholarship to Atlantic Federal Credit Union members who have an active Share account and are enrolled for a spring 2019, accredited, undergraduate or graduate program, and minimum 6 credit hours per semester. Look for the application on our website in November!
The best way to save? Make a budget and stick to it. It'll make saving money much easier and make living on your own a little less stressful.
Stay up to date and join our email list.
The Atlantic blog strives to deliver informative, relevant, and sometimes fun financial information. If you enjoyed this article, please forward it to a friend.
*Limit one Kasasa account type per Social Security Number. Account transactions and activities may take one or more days to post and settle to the account and all must do so during the Monthly Qualification Cycle in order to qualify for the account's rewards. "Monthly Qualification Cycle" means a period beginning one (1) day prior to the first day of the current statement cycle through one (1) day prior to the close of the current statement cycle. The following criteria must be satisfied each month in order to earn the 2.50% Cashback Reward. A minimum of 12 POS debit card transactions, enrollment and logon into online/mobile banking, and receipt of electronic statements. If the criteria is satisfied, domestic ATM fees incurred during qualification cycle will also be reimbursed up to $20 and credited to account on the last day of monthly statement cycle; ATM receipt must be presented for reimbursement of an individual ATM fee of $5.00 or higher. Qualifying transactions must post to and settle to the Kasasa account during the monthly qualification cycle. Transactions may take one or more banking days from the date the transaction was made to post to and settle to the account. ATM-processed transactions do not count towards qualifying debit card transactions. There are no recurring monthly service charges or fees to open or close these account(s).
When Kasasa Cash Back qualifications are met during a Monthly Qualification Cycle, you will receive 2.50% cash back up to a total of $250.00 PIN-based/signature-based debit card purchases that post and settle to the account during that cycle period. A maximum of $6.25 cash back may be earned per Monthly Qualification Cycle. When Kasasa Cash Back qualifications are not met, no cash back payments or ATM refunds are made. Cash back payments will be credited to your Kasasa Cash Back account on the last day of statement cycle. Account approval, conditions, qualifications, limits, timeframes, enrollments, logons and other requirements may apply.
Contact an Atlantic Federal Credit Union service representative for additional information, details, restrictions, processing limitations and enrollment instructions. Federally Insured by NCUA. Membership eligibility is required.
View All Posts