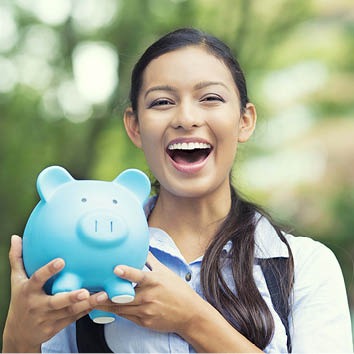 A College Students Guide to Saving
08/01/2019
It's that time of year again! Going back to school, moving in with friends, and spontaneous late-night trips to the dining hall. College is all about discovering who you are and figuring out what you want in life. Whether you're returning for another year or leaving home for the first time, your world is about to open wide. You will be provided with new opportunities to expand your mind, meet new people, and begin the groundwork for your career. However, the saying "broke college student" is one of the most common things you'll hear if you walk through any college campus. Balancing money with your new freedom can be hard. Setting a budget and knowing your limits is challenging at first, but figuring out where you can save is an essential start for any penny pincher. From one college student to another, let me share some tips and tricks I've learned from my past couple of years at college.
A printer. They take up too much space, and the cost of ink and paper can add up quickly. Check with your college to see if they have a printer allowance (usually included in the school's technology fee), giving you access to the school's printers.


A car. You're going to spend the majority of your time on campus, so there's little reason to bring your car to school. My college is notoriously known for giving parking tickets and charging insane prices for parking passes. If you feel that bringing your car is necessary, research your college's parking situation. Also, look into public transportation that your school offers or consider bringing a bike to get to places too far to walk.


Entertainment. Having fun, inexpensively, while in college should never be a problem. Instead of spending money on entertainment, check out the free events your campus has to offer—concerts, movies, speakers, sporting events. Stay in shape with the free fitness classes or intramural sports offered at your school's recreational center.


Food. If you eat regularly at the dining hall, make sure to get the most for your dollar every time. Bring a water bottle to fill with drinks to take home or look into "take-home" meal options. If you live off-campus or in an apartment, food prepping at home can save you a lot of money. You can generally get a good amount of leftovers after cooking one meal, which can cost the same price as eating out once. A great way to save time and money is to stock up on sale items that you can easily store or freeze.


Textbooks. I learned this the hard way, don't buy your books before your first week of class. Your professor will tell you what you need, and a lot of the time you'll have to buy the eBook or a new book that comes with an access code to access the online classroom. Research the class and see if students recommend buying the book at all because sometimes you may not use them. If you don't need online access, try to buy your textbooks used through your school or online.
Another way to save is to keep track of small expenses, like eating out or buying coffee. Those expenses add up over time. For instance, just buying a $4 latte every day means you'll spend $300 on coffee in one semester! Make a budget and do your best to stick to it. It'll make saving money much easier. And make living on your own a little less stressful.
Check out our website to see what college resources we can offer you to help you Do Better.
Stay up to date and join our email list.
The Atlantic blog strives to deliver informative, relevant, and sometimes fun financial information. If you enjoyed this article, please forward it to a friend.
View All Posts