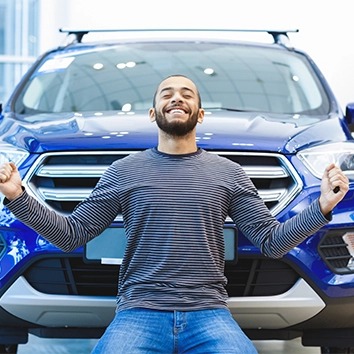 Awesome Hack for the Best Car Deal
07/08/2020
Before you set foot on the car lot, get your Blank Check Approval* from Atlantic Federal Credit Union. Getting preapproved for a car loan means you'll know what kind of rate you'll pay and what size loan you're qualified to receive. Qualification is an easy process.
Make it trouble-free. Get preapproved over the phone, 800 834-0432, or online. We know you are busy, so keep it simple.
Getting preapproved is a significant advantage, as it shows car sales staff that you're a serious buyer. It also removes the pressure of negotiating financing contracts at the dealership and allows you to focus your attention on finding the right vehicle. If you need another incentive, our low auto loan rates can get you on a faster track toward making your dream car a reality.
If you are wondering what you can afford, then take a look at our Auto Loan Calculator.
Once you're preapproved, you'll receive a letter with your Blank Check, issued for your preapproved limit. Put the check in your pocket and head for the showrooms. You can then negotiate your best deal, knowing you have the check to complete the sale.
Don't settle for dealer financing. Since dealers get a commission or flat fee for every loan they coordinate, they will probably try to get you to finance through the dealership. The dealer may offer lower monthly payments, but that also means additional monthly payments for you. Don't get caught paying more. And if the dealer is offering you a 0% car deal, then be very careful. The dealer is offering you options for your vehicle purchase. You can either pay a 0% interest rate or take a sizeable rebate and finance the vehicle traditionally. If you take the 0% rate, you're missing out on the refund and paying more for the car. This is how the dealer makes up the difference, so it's not really 0% financing.
If you have a question while you are negotiating, then give us a call. We want you to get the best car deal! Getting preapproved is an awesome hack for getting the best car deal.
Stay up to date and join our email list.
The Atlantic blog strives to deliver informative, relevant, and sometimes fun financial information. If you enjoyed this article, please forward it to a friend.
View All Posts