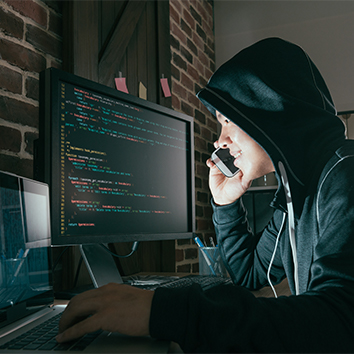 How to Not Become Victim of a Phone Scam
11/19/2020
Phone scams have become prevalent, especially when social distance has pushed many of us to conduct our business online or by phone instead of in person. Phone scammers use all kinds of tricks to cheat you out of your money by phone; don't fall for it!
Phone scammers tend to use the same methods as email scammers to obtain your information. And just like an email scammer can spoof an email address to make the email look like it's coming from a legitimate email address, phone scammers can spoof phone numbers so that your caller ID shows a legitimate name and number when you receive the phone call. In reality, this call could be coming from anywhere in the world!
Before you give out any information by phone, keep the following tips in mind for spotting a scam:
If it's too good to be true, it is.
If the caller tells you that you have been selected for a special prize, with the caveat that you have to pay a fee to get the prize, it's not a prize.
If you need to do it "right away," you shouldn't.
If the caller is pressing you with a sense of urgency, they are most likely trying to fluster you into taking action before you have a chance to think through the request rationally. For example, if a caller is trying to get you to accept a great credit card offer from your favorite financial institution, but the offer is only valid for the next hour – you are being scammed. Check your financial institution's trusted website or call the institution directly to see if the offer is legitimate.
Cash, gift cards, wires, no thanks!
Scammers try to get you to pay for things in ways that make it difficult to recover your lost funds. If you are being asked by phone to wire money, put it on a prepaid card/gift card, or use an app to transfer money, don't do it!
Keep your sensitive information secret.
When you call Atlantic or any other institution, you will be asked questions to verify your identity. This is a standard step in the process of securing your account against unauthorized access. However, if you receive an unsolicited phone call from someone claiming to be Atlantic or any other institution, and they are asking you to provide details about your identity, hang up! Atlantic will never call you and ask you for personal or financial information. If you are unsure about a call you receive claiming to be Atlantic – hang up and call us back directly.
For more information on phone scams, please visit: https://www.consumer.ftc.gov/articles/0208-phone-scams#examplesof
Stay up to date and join our email list.
The Atlantic blog strives to deliver informative, relevant, and sometimes fun financial information. If you enjoyed this article, please forward it to a friend.
View All Posts