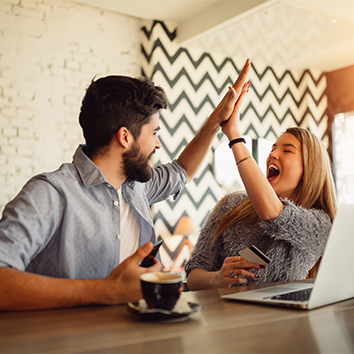 Amazing Tips to get Debt Free
01/07/2021
Do you feel like you're drowning in debt? Trust your instincts.
Data from the New York Fed reveals that, on average, Maine people carry $5,440 in student loans, $2,960 in credit card debt, auto loans average $4,670.
Our reliance on plastic and other forms of credit can make life difficult for families struggling to make ends meet. Even if you're still in shallow water, debt consolidation may be just the financial life preserver you need to keep your debt from spiraling out of control.
Sometimes getting debt-free can be as simple as 1, 2, 3.
Turn multiple payments into one easy monthly payment. Consolidating everything into one monthly payment can make your life easier and reduce stress. Yes, there is still debt to pay off, but you can concentrate on one monthly payment by reducing multiple payment deadlines.


Lower interest rates*. Lowering your interest rate can take years off debt repayment and help you save a significant amount of money. You just need to ensure that the APR on your new loan is lower than the APR on your existing debt.


Get rid of finance charges. Get your credit card bills in a fixed-rate loan and say goodbye to finance charges!
By consolidating your debt to a lower interest rate loan, you'll be in a better position to get yourself out of debt quicker.
However, before considering consolidation, you need to ask yourself why you got into debt in the first place. Consolidation can be a great tool if your spending is under control, you have a written budget, and you are working hard to get out of debt. If your instincts tell you that your Debt may be a little bit too high, then let us help. Talk with one of our credit experts today at (800) 834-0432 or with Video Banking.
With your commitment to go debt-free, we are ready to help you do better!
Stay up to date and join our email list.
The Atlantic blog strives to deliver informative, relevant, and sometimes fun financial information. If you enjoyed this article, please forward it to a friend.
View All Posts