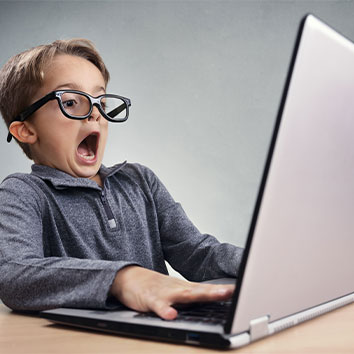 Don't be frightened; Know How to Spot Fake Emails with these Tips
04/15/2021
Let's Talk About Email Spoofing.
Have you ever received an email that looked like it was from someone you knew or from a company you did business with that seemed slightly (or very) odd? Be careful – the email may have been a spoof. Email spoofing is when a hacker manipulates an email header (you know this as the "To," "From," and "Subject" area of your emails) to make it look like it came from someone you know and trust. The hacker usually tries to get you to take some action in response to the email, either clicking on a link, opening an attachment, or responding with some personal or confidential information. And you, thinking the email is from a company you do business with or a friend or relative, respond thinking the email is trustworthy based on that spoofed heading. Once you do, the hacker can steal your information or infect your computer or smartphone with malware. How can you stay safe from this type of online deception? Keep reading for some tips that will help you spot and avoid spoofed emails.
Pay Close Attention to The Email Heading
Don't trust the Display Name alone – anyone from any email address can go into the email account settings and edit the Display Name. Make sure you also look at the full email address. Does it look strange or different from what you know the contact's normal email address to be? If so, the email is not actually coming from the name shown, and you should delete it! This can be tricky if the sender is a business. Businesses may send legitimate emails from multiple email addresses.
What Does the Subject Line Say?
Does the email that is supposedly from your Uncle in Michigan, whom you have not spoken to in years, have a Subject line that reads, "Stuck in the UK – wire money fast!" If the Subject line is aggressive or urgent, be suspicious. Hackers don't want you to stop and think; they want you to take action before realizing it's a scam quickly. This applies to emails you receive from businesses too. If the Subject line is about your account being suddenly suspended or is urging you to "Take action now," don't be fooled and don't be scared. Instead of responding to the email or clicking on any links within the email body, use your computer's internet browser to go directly to the website in question and check your account settings there instead. Urgency is a big red flag that the email is spoofed.
Are There Links in the Email?
Emails may contain a button or link you can press (think "click here!") that will take you right to a website, but how do you know that you are going where you think you are going? Did you know you can usually see the actual website address or URL if you hover your mouse over the button? This will give more detail about where you are headed if you click the button. So, when you get that email from your favorite social media site urging you to immediately "click here!" to confirm your account or you're going to lose access, hover over the offered button and carefully review the full website address. If you do this and are still unsure whether the link is safe, don't take chances. Open your web browser and navigate to the website yourself instead of clicking links or buttons within emails.
Beware Requests for Personal Information
Most companies will never ask you to respond to an email with your personal information. And if they do… they shouldn't be! If you receive an email asking you to respond with personal or confidential information, especially if the email is out of the blue and unexpected, you are likely being scammed. If you are not sure or think an email asking for information from you might be legitimate, play it safe and call the company directly to verify the email is legitimate. Look for contact information within the email. Legitimate companies will have their proper contact noted in the email.
Be Safe While Online
The ability to do business online and use the internet as a tool for staying in touch with friends and family is wonderful! We shouldn't be afraid to use digital tools offered by our favorite places of business; they are often convenient, fast, and safe. Armed with the knowledge of what to look out for, you can keep yourself safe online and still take advantage of all the ways the internet helps to make life a little easier. Keep these tips in mind while corresponding with Atlantic and making the most of our digital offerings.
Atlantic Emails
If you ever question an email's legitimacy, we encourage you to give us a call to ask at 800.834.0432.
Stay up to date and join our email list.
The Atlantic blog strives to deliver informative, relevant, and sometimes fun financial information. If you enjoyed this article, please forward it to a friend.
View All Posts