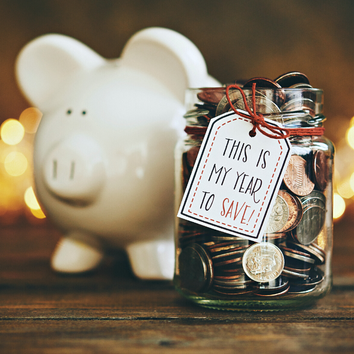 The Top 3 Financial Goals You Should Have - And How to Achieve Them
12/12/2022
What are the Most Common Financial Goals?
According to a survey by MoneyGeek, the most common new year money goals people make are:
2. Using a budget or other tactic to manage spending
3. Cut costs by reviewing routine expenses
When the new year begins, it's easy to make resolutions with good intentions, but putting them into practice is challenging for many. Creating a realistic plan and sticking to it is the key to making those money goals a reality, so we've put together some simple, actionable advice on how to keep those goals through the new year and beyond.
How to Achieve the Top 3 Financial Goals
1. Paying down debt
The average Mainer had almost $5,000 in credit card debt in 2022. If this is you, know you're not alone. Avoid the debt-shame spiral and start by choosing a strategy for debt management. Whether it's the avalanche (or ladder) method, the snowball method, or pursuing debt consolidation.
The avalanche method focuses on interest rates and advises that you start paying off credit card debt based on the card with the highest interest. This will allow you to pay less over time in interest. The snowball method starts with first paying down the card with the smallest debt. Getting rid of easy-to-handle debt sooner will give you a sense of momentum and empower you to keep going. Lastly, debt consolidation can be a good route if you have various debt payments and would rather simplify the process by having only one easy payment to make.
Choose whichever method works for you, then stick to it! This should be your number one priority, as credit card debt is one of the biggest factors that can affect your credit score.
2. Using a budget to manage spending
Everyone knows that budgeting is a great habit, and with grocery and household items expected to increase in 2023, it's more important to save money at every chance. Three easy ways to manage a budget include tracking daily spending, listing all bills, and limiting shopping tips. You can also capitalize on your everyday spending by using a checking account that has rewards, like a free Kasasa checking account.
Another great way to see where your money is going is by using a financial wellness tool like the one found in Digital Banking by Atlantic. This will allow you to see your expenses broken down into several categories like groceries, travel, and shopping as well as a list of recurring expenses that you may have forgotten about.
3. Review and reduce costs
When was the last time you went through all your subscription services? Or shopped around for a better deal on insurance? By reevaluating the worth of your recurring expenses, you could save a significant amount in the long run. Treat it like cleaning out your closet. If you're not using that gym membership, it may be time to cut ties and make room for something better, like outdoor hiking or home workouts. The new year is also a great time to consider bundling home and auto insurance with one provider to get more savings.
If taking on all three of these resolutions is overwhelming, starting (and sticking with!) just one can significantly improve your financial situation and overall quality of life. If you're still unsure where to start, speaking with a financial expert can help get you on the right track for a better year ahead.
The Atlantic blog strives to deliver informative, relevant, and sometimes fun financial information. If you enjoyed this article, please forward it to a friend.
View All Posts